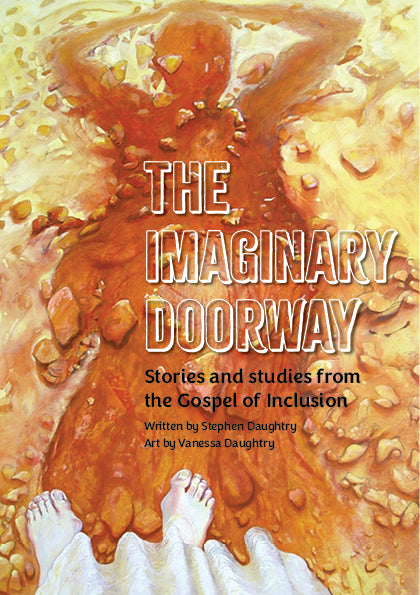 The Imaginary Doorway PDF Download
Our apologies, this book is 'SOLD OUT'.
We are now selling a downloadable PDF copy. We encourage you to purchase one copy of the PDF for each person doing the study, just as you would with the book. That way, we are able to continue to provide resources for the Australian church. Thanks!
'THE IMAGINARY DOORWAY'
 

IS ANOTHER FINE PIECE OF AUSTRALIAN, MISSIONAL THEOLOGY, DESIGNED TO GET YOUR GROUP TALKING AND YOUR MIND THINKING.

Seven studies that, from Ash Wednesday to Holy Week, take us into the lives of seven of the people Jesus brought to wholeness. Seven stories that bring scripture alive and help us to understand that Jesus was dealing with real people, rather than generic characters. Hear anew, the stories of Legion, the haemorrhaging woman, Lazarus and Martha, the woman accused of adultery, Zacchaeus, the paralysed man let down through the roof – and that post-resurrection, BBQ breakfast on the beach.

Story-based studies that will touch your heart, build your faith and encourage you on the missional journey. All genuine mission is incarnational and relationally based. As the studies suggest, "If our mission is all about purpose rather than relationship, we miss the point."

Written by ABM Education Missioner, Stephen Daughtry, with art by Vanessa Daughtry, this will be another beautiful and challenging dive into God's love for the world.

Reviews & recommendations

"ABM-A has once again given us some great resources for Lent which provide three-way connections of encounters with Jesus, our own journey of discipleship as well as the ministry ABM-A shares with our partners. I found the imaginative reflections on the gospel passages really powerful. The reflections gave me new insights into the experience people had with the life-giving love of Jesus, and I am sure the discussion starters will lead to rich conversation.

I commend the Imaginary Doorway as part of your Lenten journey and I am grateful to ABM-A for its provision."

Archbishop Geoff Smith, The Primate of the Anglican Church of Australia and Archbishop of Adelaide.

"Complimenting Vanessa's evocative images, Steve takes the gift of human imagination seriously, inviting us to experience scripture in a new way - with the authentic potential for new revelation. 

 ABM is the preeminent Anglican organisation producing contemporary quality study materials, which enhance the work and witness of God's Church in the modern world. ABM studies encourage the people of God in their faithful reflection and strengthen their capacity to turn reflection into action for justice".

The Venerable Sophie Relf-Christopher

"The 2023 ABM Lenten Studies, written by the Rev'd Canon Steve Daughtry and illustrated by Vanessa Daughtry, are a wonderful gift to the Australian church, a church having to rethink where it belongs in contemporary Australia, a church struggling to find its place, a new place, in a rapidly changing context. Steve brings these stories of encounters with Jesus vividly alive with his sharp and engaging prose, and Vanessa likewise with her striking artwork. The result is a uniquely Australian Lenten series that is evocative and provocative, creative and thoughtful, engaging and down-to-earth. I recommend them highly for those seeking to reconnect with Jesus' life and practice of inclusion and generosity."

The Rev'd Assoc Prof Matthew Anstey

"As I read the draft of this year's ABM Study, 'The Imaginary Doorway' I must admit it brought tears to my eyes. The words speak deeply into the human condition, and that place of tenderness where God meets us, holds us and transforms us. In this transformation, God invites us to recognise and embrace the humanity of one another and walk the journey to wholeness together. This study is a grace filled embodiment of the Gospel of love and inclusion. The exquisite artwork offers a profound partnership with the text, carrying us deep into the heart of God.

Whether this study is for group use or for private devotions through the Season of Lent, be prepared to be touched and changed - for the better.

I look forward to using this study personally as a Lent devotional."

Bishop Denise Ferguson, Diocese of Adelaide.

"Any study of human society would suggest that we are 'hard-wired' for story.  From the said and sung oral traditions of early societies, to the literature and theatre of those which came later.  From silent movies to the mini-series of Netflix… we just seem to revel in a good story! 

Jesus was a great storyteller and I think it's because he knew people would remember the narrative and in that remembering there would be both leaven and life.  Am I the Good Samaritan, or do I walk by on the other side?  Are you the Prodigal, or are you the eldest son refusing to join the party?

In a time where there is an overwhelming volume of 'story' it's hard to know which one to read or watch, and which one will be a blessing.  Into this lived reality the recommendation of a friend can be hugely helpful: 'I've just watched this and I think you'll love it!' or, 'I've just read this and it was so good!' can give us the confidence to buy or borrow, read and watch.

Well, as a friend and fellow-traveller, I very much recommend ABM's 2023 Lent Study called 'The Imaginary Doorway'.  The author, Steve Daughtry, is a gifted storyteller who brings to life with his rich prose seven encounters that Jesus had with other people.  Then there are thought provoking questions and quotes for individual and groups… and beautiful paintings by Vanessa Daughtry which take us into a reflective space without words…

I am certainly recommending people and parishes in my part of the world to use this study and I invite you to join us."

The Rt Revd Cameron Venables, Archbishop's Commissary (Diocese of Brisbane) & Bishop for the Western Region

Ordinary people, everyday lives,

Shaped like all of us by pain and pathos, love and loyalty

And darker struggles with shame and guilt, greed, anger, jealousy, despair…

These imagined lives come face to face with the One, Immanuel, God with us,

And their lives are changed forever.

These moving stories depict the power of these encounters, part of the mosaic of the gospels, displaying the way God keeps reaching out, invitationally to touch, free and heal us all. I too, have tears in my eyes at times as I read. I am left with the questions:

"Do I notice God's reaching out to others, to me? What and how do I notice? And how do I respond?"

I trust you too will find these down-to-earth imagined stories engaging, inspirational and thought-provoking.

Robyn Duckworth, Counsellor and Spiritual Director

In recent times we have been learning to read the Bible through different lenses. Those with an eye on Biblical interpretation know that it has always been so. However, it is good to be provoked into remembering that the Bible is a living thing. No one, infallible, interpretation will ever do justice to this conversation we have with God through the book we call the Bible.  A book filled with stories that invite us to imagine ourselves into them. The Bible stories become our stories where God meets us in the exceptional ordinariness of our lives. Bread, wine, blood, pain, suffering, peace, companionship, kindness, and love surface occasionally in the living out of our Christian lives in a world still not yet set free.  The Bible reminds us of these things through the stories that are found within it. People searching, seeking, finding, rejoicing, praying, hoping, and changing. People just like you and me; people who are you and me!

Stephen and Vanessa Daughtry are two talented people who have offered their gifts to help us engage with Gospel stories in a living and inclusive way. 'The Imaginary Doorway' invites us into a Gospel vision that enables us to meet Jesus in both book and life, and ultimately encourages us to participate with God in God's mission to the world with greater clarity and insight.

The Rt Rev'd Chris McLeod – National Aboriginal Bishop

 

One of the great failures of the church in our time is a failure of imagination. Trapped in ways of thinking or ways of being the church or ways of reading our sacred texts that belong to an age long past, we have largely lost the capacity to imagine a different or new future for our faith and our church.

The latest study from ABM, penned by Stephen Daughtry with vivid illustrations by Vanessa Daughtry invites us on a journey of imagination, engaging with ancient texts in fresh new ways through story, poetry, music, art and missiology.

Each of the seven sessions of The Imaginary Doorway (ideal for Lent or any other time during the year) takes a well-known story from Scripture and offers an imaginative re-telling of that story before connecting it back into a number of real and challenging contemporary issues.

This is another excellent offering from the team at ABM and I thoroughly recommend it for small groups or individuals who are keen to immerse themselves in the scriptures and begin the work of remedying the failure of imagination that so afflicts the church. Not only is each study carefully written, the beautiful illustrations from Vanessa Daughtry bring page after page alive to further prompt the imagination.

The Right Rev'd Jeremy Greaves, Bishop for the Northern Region, Diocese of Brisbane